Astorga is, without a doubt, one of the most critical places on the Camino Frances. This is where two pilgrim ways, the Camino Francés, and the Vía de la Plata meet. According to the early writings, Astorga used to have 25 refuges in the middle ages.
During the years of the Roman Empire, the settlement developed into Austurica Augusta, an important Roman, later Christian center. This era left many remains in the form of murals, walls, and buildings.
The strong walls sheltered not only the inhabitants but the numerous pilgrims visiting the town. The most important refuges of that time were the San Esteban and the San Feliz next to Puerta del Sol (The Sun Gate).
One of the most prominent sights in Astorga is the Palacio Episcopal (the Episcopal Palace) designed by Gaudí, which nowadays houses the Museo de Los Caminos.
Another fascinating building is the Astorga Cathedral, the construction started in 1471 and was built for three centuries. Due to that, today's cathedral reflects diverse styles (Gothic, Renaissance, and Baroque).
Starting the Camino in Astorga
Astorga is also a possible place to start your Camino. One possibility of getting there is to take the bus from Madrid, which takes approximately 3 hours. The bus starts from the main bus station near the Atocha train station or you take the underground and get to the Mendez Alvaro stop.
Another possibility is to take the bus from Oviedo or Valladolid.
Just like anywhere else, you can get a credential in most churches or Albergues.
Accommodation in Astorga
What to see in Astorga
Cathedral of Astorga
Its construction was started in 1471 at the sight of a Romanesque church and was being built over three centuries. The Cathedral, dedicated to the Virgin Mary, carries the decorative features of Neo-classic, Baroque, and Renaissance styles. The cathedral has two towers that, although identical in their architecture, have different colors for the stone used in each one of them.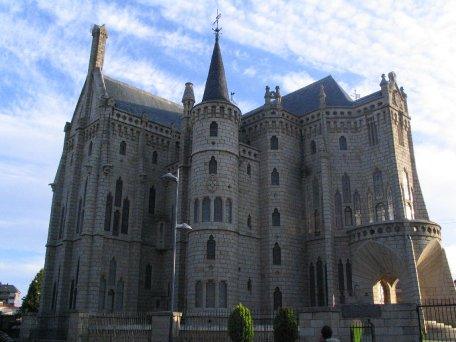 The Church of Santa Marta
Santa Martha is the patron saint of Astorga. The tiny church dedicated to her stands in the shadow of the Cathedral.
Chocolate Museum
The museum can be found within three minutes walk from Plaza Mayor. A real Mecca for serious chocoholics or fans. Astorga is the place where chocolate was first introduced to Europe. Samples are handed out!
Roman Museum
The museum can be found on Plaza San Bartholomé. The building itself was an ancient slave prison. During the exhibition, you can watch a film which helps to imagine what Astorga was like in Roman times.