This picturesque small settlement is the first place offering accommodation for pilgrims after crossing the Spanish border from France. It is a popular starting point among pilgrims who wish to spare themselves crossing the Pyrenees on the very first day of their Camino.
The Battle of the Roncevaux Pass took place here in 778. As Charlemagne's army withdrew from a campaign on the Iberian peninsula, the rear guard led by a knight named Roland was attacked, trapped, and slaughtered (probably) by Basques. The incident is reflected in the oldest surviving major piece of French literature, La Chanson de Roland (The Song of Roland).
Starting the Camino in Roncesvalles
The easiest way to get to Roncesvalles is from Pamplona. Being a fairly big city, you can reach Pamplona by different means of transportation, and from there you can take the bus to Roncesvalles.
You can collect a credential at the Centro de Atención al Peregrino (in the Casa Prioral).
Accommodation in Roncesvalles
| | | | | |
| --- | --- | --- | --- | --- |
| Hotel name | Type | Price range | Room type | Other |
| Hotel Roncesvalles | Hotel | Mid-range | Private rooms | Lounge, Terrace, Bar & Restaurant, WiFi, Non-smoking rooms |
| Posada de Roncesvalles | Guest house | Mid-range | Private rooms | Terrace, Shared lounge, Bar & Restaurant, WiFi, Non-smoking rooms, Family rooms |
What to see in Roncesvalles
Iglesia de Santa María
The Collegiate Church of Santa María is a beautiful example of the French Gothic in Navarre. It was built under the patronage of Sancho VII the Strong, who is buried in the Chapel of Saint Augustine.
Capilla del Espíritu Santo
The Chapel of the Holy Spirit, or the 'Silo of Charlemagne', was built upon the graves of Charlemagne's soldiers slain in the Battle of Roncevaux and later used as an ossuary for many a pilgrim.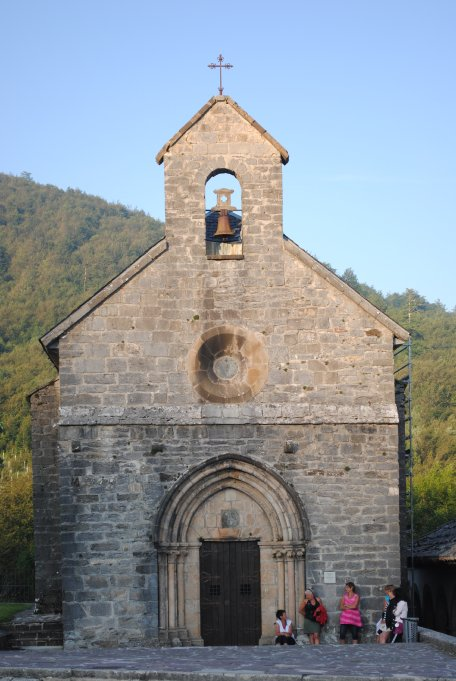 Museum
Apart from many notable religious items, the museum houses many artifacts related to Charlemagne and Roland, including 'Charlemagne's chessboard' (which is a reliquary), Roland's famous olifant (ivory horn), and the Miramamolín Emerald, a war trophy won by Sancho VII the Strong in the battle of Las Navas de Tolosa and incorporated into the coat of arms Navarre adopted after the victory.
Monument to Roland
A stone monument with a sword before Roncesvalles commemorating the story of Roland.