Ayegui is a small village located in the province of Navarra, in the autonomous community of the Basque Country, in northern Spain, just 3 km from Estella. The settlement was an ecclesiastic manor in the Middle Ages, documented in Ayegui's 12th-century records.
A few kilometers after Ayegui (accommodation link), you'll find a small place called Irache. Besides its beautiful monastery, the other much-visited attraction is the Wine Fountain, which provides red wine and water for pilgrims, one of the unique attractions that can be found on the Camino de Santiago!
Accommodation and Planning:
Few places offer accommodation in Ayegui, the most convenient option we could find for solo travelers and pilgrims is Albergue Municipal San Cipriano when available. You can also try to stop in Estella, as it is very close.
There is also the possibility of booking an organized tour. For this option, please connect with our partner here!
What To See in Ayegui
Iglesia parochial:
One of the sights of the settlement is the Church of San Martín built at the end of the 18th century.
Monastery of Irache:
Overlooking the town of Ayegui, the Monastery of Irache, also known as the Monastery of Santa María de Irache, is a Benedictine monastery founded in the 10th century. It is mainly famous for its wine fountain, where pilgrims can stop and drink free wine from the monastery's vineyards as a sign that they are welcome. The monastery is open to pilgrims and visitors interested in the history and architecture of the monastery.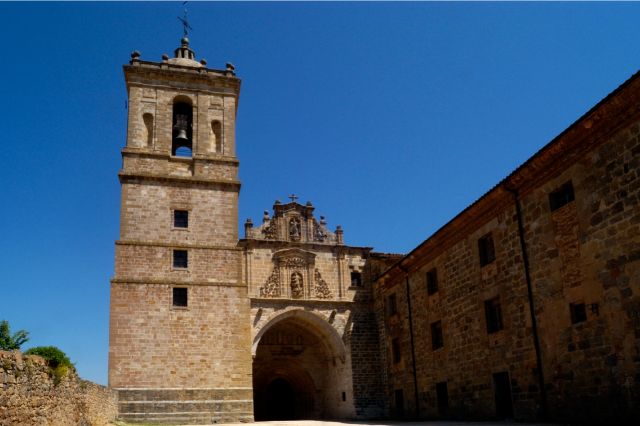 Fuente de Vino:
Bodegas Irache has had a wine fountain installed since 1991. It provides free wine to pilgrims, inviting them with this inscription:
"Peregrino si quieres llegar a Santiago con fuerza y vitalidad de este gran vino echa un trago y brinda por la felicidad." (Pilgrim if you want to get to Santiago with strength and health, drink this great wine and toast to happiness.)
Museo de Vino:
One of the buildings of Bodegas Irache now serves as a museum.